The Diva House Series: Ultra Naté
May 27, 2011
Welcome to a new series for the PUB.lication blog, a succulent celebration of Diva House, epic dancefloor tunes and the performers who are more than just disposable voices. The idea arose when I recently stumbled across a feature on these so-called divas in an issue of Vibe magazine from 1994, with beautiful photographs taken by Ellen von Unwerth [some of which I will be using for this series] – some of which I knew very well and some who I was joyously introduced to for the first time.
Most people who know me well are aware of my Achille's Heel; an overwhelming weakness for even the tiniest hint of Crystal Waters, Adeva or [the divine fault line where diva house and eurodance overlap] Black Box. And so I'm embarking on this new series with, to put it mildly, childlike excitement.
From a gender politics perspective, club music hasn't always had the best record for giving their female vocalist the credit they deserve. Despite my aforementioned affections, Black Box is possibly one of the most notorious perpetrators, using model Catherine Quinol as the sleek and sexy frontwoman for a string of hits that had actually been recorded with Weather Girl, Martha Wash. Diva house at its best, puts the ladies in the limelight, a producer/singer relationship perhaps more akin to Donna Summer's output with Giorgio Moroder.
A diva house club queen through and through, with no hidden agenda of trying to break into the R&B scene, Ultra Naté, a native of Baltimore – a city steeped in dancefloor culture – dropped her first single  'It's Over Now' [see video below] in 1989. Produced by the Basement Boys, now legendary Bmore house producers also responsible for the beats behind Crystal Water's 'Gypsy Woman' (She's Homeless)', Ultra Naté's career was set when rather than disappearing into the archives after one track, she had a string of successful singles off her first album Blue Notes In The Basement including the anthemic 'Rejoicing' [listen below] and 'Is It Love?'.
 In 1993, Ultra Naté was back with One Woman's Insanity. Blue Note… has been initially released on the UK-based label WEA but by the time her second album came out US parent company Warner Brothers had attempted to stick their fingers in the batter. Trying to market Ultra as an R&B singer ultimately failed, however much they tried to mellow out the single 'How Long' [see below]. Sticking with her devoted fanbase, tracks like 'Show Me'  and 'Joy' held fast to their uplifting house roots.
Leaving Warners and their cookie cutter approach to black female artists behind, Ultra Naté's output between 1993 and 1997 was limited to a few one-off singles. After 'Party Girl', a classic house tune that no one could argue with, Ultra Naté controversially featured on The Moonwalker's track '10,000 Screaming Faggots' [listen below]. Diva house being central to many gay clubs, it could've been seen as a derogatory slur on her fans but Ultra stuck to her guns:
"Anybody who actually listened to the lyrics would grasp that the song is basically paying homage to the gay community for the love and respect they have shown me. They were my first fans. The first show I had ever done was at a club called Fantasy in Baltimore on a Sunday night which was strictly a gay night, you know, drag queen heaven. They embraced me, they dressed me, they made my face up and they puffed my hair and tossed me on stage and were livin' for it. I really felt that love and appreciation from the gay community, and they have always been at the forefront of my fan base. "10,000 Screaming Faggots" was actually taking a word that's considered derogatory and turning it around into something positive."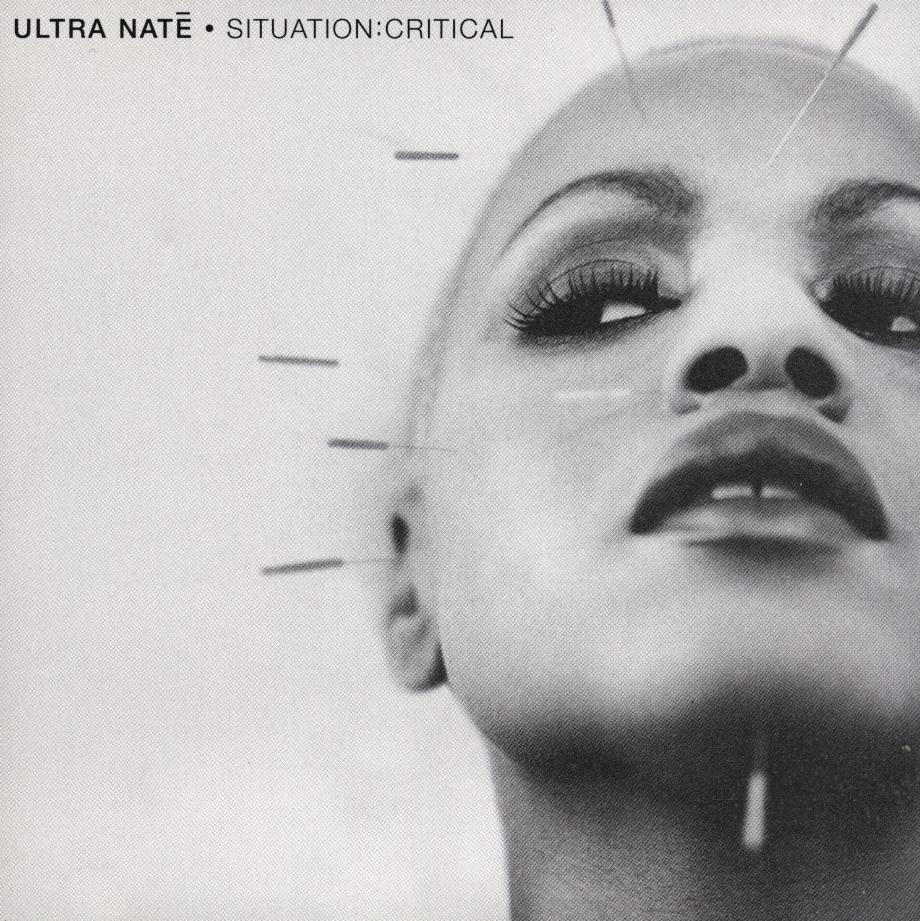 '10,000 Screaming Faggots' was released on Strictly Rhythms, the label that would become Ultra Naté's new home for the latter part of the nineties and with whom she would gain Europe-wide, if not worldwide success. For her third album Situation Critical, with short platinum blonde hair and a some killer tunes up her sleeve, it was the breakout track 'Free' produced by Mood II Swing that resounded the loudest on the charts and music television. 
Tracks like 'Pressure', 'New Kind of Medicine' and 'Found A Cure' [see video below] made her hard to avoid throughout 1997 and 1998. [In fact, it took me almost a decade to get over the incredible Ultra Naté overexposure that I was subjected to living in Germany, culminating in her collaboration with Amber and Jocelyn Enriquez on 'If You Could Read My Mind' for the Studio 54 soundtrack. Shudder.]
 In the new millenium, you have to be a bit of a die-hard to keep abreast with Ultra's career, and you'd be forgiven for thinking there wasn't one left anymore but au contraire! 2001 saw Stranger Than Fiction released, her follow up to Situation Critical, another dancefloor album but with smoother, funkier edges. Working with Nona Hendryx, N'dea Davenport and even Lenny Kravitz, it was ultimately Ultra Naté's growing pains album, figuring out how satisfy her own needs as an artist whilst pleasing fans who only wanted to hear 'Free' over and over again. Despite tracks like 'Get It Up' and 'Desire' and 'Twisted' [see videos below], it failed to capture people's imagination.
After Stranger…, Ultra collaborated with The B-15 Project on a track called 'Brass In My Pocket' and saw a chart return with Stonebridge and their single together 'Freak On'. Whilst 'Brass…' remained an albumless anomaly, 'Freak On' went on to be included in her 2007 album Grime, Silk and Thunder, with its Moroder-esque single 'Love's The Only Drug', Pointer Sister's cover 'Automatic' and two reworkings of her classic Blue Notes… club tracks 'Scandal' and 'It's Over Now'.
But it's her 2009 EP Things Happen At Night that really sees Ultra Naté back on form, getting right to the heart of what makes dancefloors pulse. 'Hey DJ' [see video below] proving that diva house can still sound fresh 20 years into a career. And with the recently released 'Turn It Up' [see video below] perhaps simmering a little too comfortably on a disco stove, it still sounds like Ultra's upcoming album Hero Worship is gonna be worth looking out for.